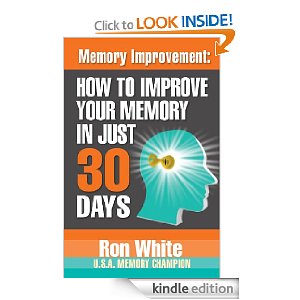 Two-time U.S.A. Memory Champ Ron White has become the newest LP author to see his book climb to top rankings. His Kindle edition of Memory Improvement: How To Improve Your Memory In Just 30 Days has consistently been ranked in the Top Five of all books in Memory Improvement and on a number of occasions has actually claimed the top spot.
Five-star reviewers have commented on the simplicity of Ron's system, including a college student who is a Japanese language major. The foundation of the book is the 2,000 year-old-system that Ron himself first mastered after flunking out of college. He has used it to develop an astounding memory, including the record for the fastest to memorize a a deck of shuffled cards in only 1 minute and 27 seconds.
Using his system the book guides the reader over a 30 day program that can result in 300% increases in memory and retention. The book is available at the Amazon Kindle store, Apple iBookstore and Barnes & Noble Nook store.